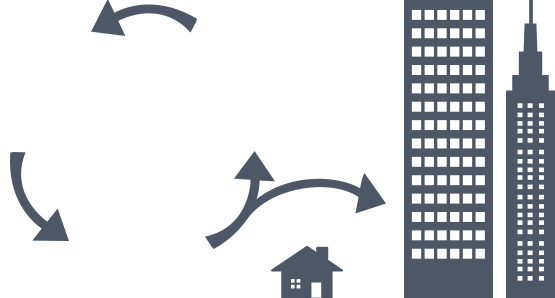 Full-Service Media Company
Candy Hour Media is a full-service media company specializing in creating Professional videography and photography. Based out of Boise Idaho, we utilize the latest technology to aid you in marketing your service or product. Put yourself ahead of the competition with a high-end promotional video or list a home accompanied with a breathtaking virtual tour and Aerial photos. Let us help you connect with your audience by providing cutting edge content that entertains, informs and inspires.
Help buyers fall in love with your listing before they've ever walked through the door! Separate yourself from the rest of the pack with our stunning light painted photography and aerial photos. If a picture is worth a thousand words, then video is worth a million. Create a virtual video tour of the home that will give them an entertaining, informative, and positive experience.
Stir your costumer's imaginations with the awesome visuals of aerial media. Ariel media allows you to tell stories and convey emotions in a way that no other media can compare with. Whether you are trying to add excitement to a promotional video or lend an air of majesty to an estate tour, our skilled drone pilots and camera operators can make it happen.
Give you audience an attractive, engaging, and secure site to explore while learning about you and what you have to offer. At Candy Hour, we have over a decade of experience creating websites that fill that criteria. Let us build you a website that will set people at ease and garner trust in what you have to offer.
Using Professional Photos & videos in business is now a standard for staying competitive. Whether your business is just starting or you've been established for years, let us help tell your story so that your customers build a positive relationship with you from the start!
"Candy Hour Media helped take our practice's online marketing to the the next level. They have helped us with producing professional quality videos, which in return increased SEO on our website and increased our youtube subscribers. Their design work and production quality has helped keep our brand consistent and professional. Thank you!"
"We have been very happy with the services provided by Candy Hour Media. Garrett, Gabe, and Scott work great together creating a great product with very quick turn around. I look forward to working with them in the future."
"The professionals at Candy Hour Media have helped us accomplish many of our important goals over the past year. They have provided us with top of the line videos and photos, improved our SEO, and consulted us on our online marketing strategies. I would recommend them to anyone looking to beat their competitors online."
"Candy Hour Media is one of the easiest companies to work with. They understands movement so they get great footage with great camera angles. We love our video!"
"I've had the distinct pleasure of working with Candy Hour Media on some projects involving video, editing, drone and still photography. They are highly capable in all of these arenas and has the technical skills to work in capacities above and beyond these areas. Their production and editing staff is tech savvy, fun to work with, eager to please, and priced very competitively, especially when compared with some of the larger marketing agencies. We look forward to continued partnerships with Candy Hour for many years to come."